As many of you have noticed from the teaser that we released back at King of Trios weekend, several wrestlers from CHIKARA's past will be returning for Rudo Resurrection. So far, the nine that we have discussed are: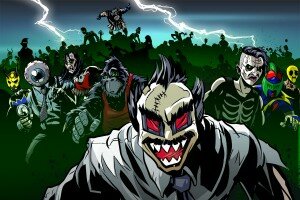 -Jervis Cottonbelly
-Lance Steel
-Blind Rage
-Mister ZERO
-USApe
-Sumie Sakai
-Private Eye
-Worker Ant
-ShareCropper (left out of the trailer, but was shown in last weeks concept sketch)
One of the above may or may not be in the final version of the game, so for those of you that like to speculate, here's your opportunity. Might another wrestler from CHIKARA's past take the place of one of the above? If so, who will be removed and who will be added? With CHIKARA's rich cast of characters, it could be anyone…
Speaking of speculation, there has been much of it regarding the shadowy figures that fill out the above image. As shown earlier in the trailer, The Order of the Neo Solar Temple have constructed a cloning chamber as seen below: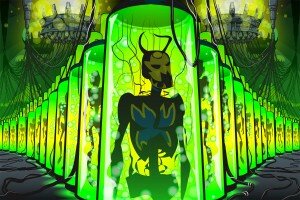 Not only have The Order of the Neo Solar Temple found a way to resurrect these "deceased" wrestlers, but they also found a way to clone them. Now this certainly spells trouble for the Tecnicos, but thankfully the Colony (Fire Ant, Soldier Ant and Green Ant) will not be alone in their fight. Joining them will be the patriarch of CHIKARA, Lightning Mike Quackenbush!